Are Lyft and Uber Responsible for Car Accidents?
Central New York Legal News
For the past few years, ridesharing services like Uber and Lyft have quickly been overtaking the taxicab industry as the primary vehicles for hire. It's easy to see the appeal: you can request a car with just a touch of a button on your phone, you don't have to flag anybody down or wait upwards of half an hour for your car to arrive, ridesharing rates are usually even cheaper than taxi rates, and it's often more flexible for drivers themselves. Many times, ridesharing vehicles are also even cleaner and more personable than taxi cabs.
However, for all these benefits, Uber and Lyft bring about some new challenges—one of the greatest of which is figuring out who's at fault for an automobile accident involving a ridesharing vehicle. This information is especially vital in accidents where passengers, drivers, or pedestrians have been injured and are entitled to seek out legal damages.
Ridesharing Insurance Policies
Although Lyft and Uber drivers are required to undergo background checks and maintain their own auto insurance, they are not official employees of the company. Instead, they are independent contractors. This classification allows them to set their own schedule, means they perform contract work rather than salaried work, and makes them responsible for their own business expenses. So who is at fault in cases of automobile accidents involving Uber and Lyft drivers: the rideshare driver, the rideshare company, or the insurance company?
The New York DMV requires that rideshare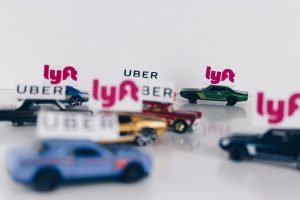 companies carry a vehicle liability insurance policy of $1,250,000 per occurrence. If an individual suspects a company is not following operating requirements, they can file a complaint via the DMV mobile app or website. The DMV then has the ability to conduct an audit, impose fines, and suspend or even revoke the rideshare company's license to operate.
According to its website, Uber maintains the following auto insurance policies during trips on their driver's behalf in case of a covered accident:
$1,000,000 third-party liability

Uninsured/underinsured motorist bodily injury

Contingent comprehensive and collision

Up to actual cash value of the car ($1,000 deductible)
Lyft's website states that its insurance policy has a $1,000,000 per accident limit. This sort of coverage applies from the time a ride request is accepted until the time the ride has ended in the app. Their contingent collision coverage covers physical damage to the driver's vehicle as long as the driver has obtained collision coverage on their own personal policy. If the driver is involved in an accident with an uninsured or underinsured driver who is at fault for bodily injury to any passengers or drivers, Lyft has a separate, no-deductible policy specifically for these situations.
Seeking Legal Assistance
If you or a loved one have recently been involved in a rideshare accident in Central New York, the experienced personal injury attorneys at Gattuso & Ciotoli, PLLC may be able to help. Although our offices are located in Fayetteville, we serve the general Central New York area, including Syracuse, Watertown, Binghamton, Camillus, Liverpool, Cortland, and Auburn. Call any time day or night at (315) 314-8000 to schedule a free consultation with a qualified member of our legal team. We have more than 50 years of combined personal injury experience successfully representing and negotiating the best possible outcome for our clients. We can help you, too.