Avoid These Common Mistakes After a Car Accident
Central New York Legal News
Understanding what mistakes to avoid after a car accident can potentially save you hundreds or thousands of dollars in car expenses, fines, personal injuries, and lost wages. New York has certain laws that every driver is required to follow after a car accident, and missing one of those laws can also hurt you financially. Insurance companies may seem like they are on your side, but many people are deceived into accepting less compensation than they need. An experienced New York Car Accidents Attorney can help you avoid these mistakes so you can recover from your financial losses.
Common Mistakes Right After the Accident
Some people come out of a car accident seemingly unscathed. However, many people do not know that some injuries fail to show up right away. Internal damage, head trauma, and similar injuries can become worse if left unchecked by a medical professional. Many of these injuries can run up your medical bills, as well as impair your quality of life.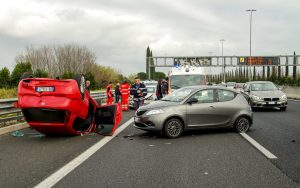 To be compensated for these injuries by your insurance company, it will not look good if you have no records of visiting the doctor right after the accident. Some insurance companies will try to make it seem like your current injuries have no relationship with the accident. They do this because they want to save as much money as possible. Handing out compensation makes them lose money.
Others may wait too long to see a doctor or talk to their insurance company about a personal injury claim. Every state has a statute of limitations. Once the statute of limitation period after the accident is up, you will not be able to file a claim or lawsuit.
Mistakes with the Insurance Company
Insurance companies will use various tricks to make you think you are receiving fair compensation, but the reality is that they as a company are trying every tactic to save money. Most insurance companies are not looking at your best interests, but theirs.
To avoid complications, do not give the insurance company information they are not entitled to. You are not required to tell them how at fault you may have been for the accident. That being said, never admit fault for the accident, not to police or the other driver. This can be used against you later. Information about your injuries does not need to exceed what your medical records state.
An insurance company may offer what seems like a good deal, but you should hold off on accepting any compensation from them until you consult with a lawyer.
New York Car Accidents Lawyer
Anytime you suffer injuries and vehicle damages from a car accident caused by someone else, you should seek compensation. No one should have to struggle financially when the accident was caused by another person's negligence. Talk to a Binghamton Automobile Accidents Lawyer who can guide you to the best possible options available.
At Gattuso & Ciotoli, we offer our clients four areas of legal practice. Contact us today at (315) 314-8000 for a free consultation. We are located in Central New York, Syracuse, Watertown, Binghamton, Fayetteville, North Syracuse, Camillus, Liverpool, Cortland, and Auburn.