Common Causes and Injuries for Pedestrian Accidents
Central New York Legal News
Pedestrian accidents can lead to serious personal injuries that can be difficult to fully recover from. Many injuries sustained by pedestrians in collisions with automobiles are life-threatening due to the unprotected impact of the vehicle against the person's body. The chances of pedestrians walking away with minor injuries are rare and these accidents have only seemed to increase over time. Consider hiring a New York Personal Injury Lawyer if you were hit by a negligent driver.
Common Causes of Pedestrian Accidents
No one factor consistently leads to pedestrian accidents, but multiple causes are suspected to contribute to the problem. Unsafe driving habits, pedestrian behaviors, and environments with a lack of crosswalks or signs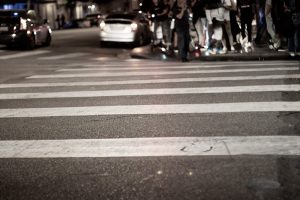 represent some of these causative factors.
Pedestrians who jaywalk without properly looking at both sides of the road place themselves at a higher risk for an accident. Drivers who fail to yield to pedestrians, who run red lights, or ignore signs and crosswalks are more likely to hit a pedestrian. Speeding also plays a major role. A speeding driver may not be able to stop in time to avoid hitting an unexpected pedestrian. Rainy or wet environments can inhibit last-minute braking and foggy weather can prevent drivers and pedestrians from seeing each other in time.
Alcohol use by drivers and pedestrians alike is also a common cause of pedestrian accidents. Distractions like texting while driving or walking can impair a person's perceptions of the surroundings. Not following crossing signals can often confuse drivers about whether they should still go. Many drivers are focused on the stoplight, not pedestrians waiting to cross on the side of the road. 
Injuries from Pedestrian Accidents
Common pedestrian injuries include broken bones, traumatic brain injuries (TBIs), spinal cord injuries, abrasions, and soft tissue injuries. However, the most common injury is damage to the lower extremities like the waist and legs. This makes sense because those are the first parts of the body hit by the car, followed by the abdomen and head.
The head, face, and neck are injured 38 percent of the time while the upper extremities like the arms are damaged 27 percent of the time. Severe injuries tend to happen with damage to the head and thorax. Almost any kind of abrupt hit to the head can cause a TBI. Hits to the thorax may make breathing difficult with fractured ribs that can puncture the lungs.  
Pedestrian Accidents Lawyer in New York
TBIs and bone fractures caused by pedestrian accidents can often take months to heal. Head injuries, in particular, can cause lifelong impairments. Contact a Fayetteville Pedestrian Accidents Attorney if you suffered one of these injuries from a negligent driver. You may be eligible to receive compensation for your pain and suffering, emotional distress, and medical expenses.
At Gattuso & Ciotoli, we offer our clients over 50 years of legal experience with personal injury accidents. Call us at (315) 314-8000 for a free consultation today. You can find us in Central New York, Syracuse, Watertown, Binghamton, Fayetteville, North Syracuse, Camillus, Liverpool, Cortland, and Auburn.