Filing a Whiplash Lawsuit in New York
Central New York Legal News
Whiplash is one of the most common personal injuries associated with car accidents. This injury happens when a person's head and neck are violently thrown around at rapid speeds. Most multiple-vehicle accidents cause these types of movements.
Mild whiplash is not as severe as other car accident injuries, like brain injuries, but chronic whiplash pain can lead to long-term impairments. These impairments can negatively affect work, school, and social relationships. Consider consulting a Central New York Car Accidents Attorney if the accident was caused by a negligent driver.
Mild Versus Severe Whiplash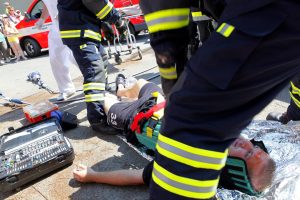 Mild whiplash pain tends to go away within a week or two and may require mild treatments, like rest and painkillers. Common symptoms are neck pain, headaches, blurry vision, and drowsiness. Some people may also experience anxiety and sleep difficulties as a result of constant pain and discomfort.
Whiplash can occur from damaged tendons, muscles, nerves, or bones in the neck. Severe whiplash pain tends to be associated with slipped discs in the neck, the cushions between your vertebrae. Without a functional disc, your bones and nerves are free to rub against each other and cause damage. This can worsen pain and may lead to a condition called chronic whiplash pain.
Chronic whiplash can last several years and some people find little relief despite using pain medications daily. This can lead to insomnia, concentration problems, memory impairments, and other negative effects.
Lawsuit or No-Fault Insurance?
You may or may not be able to file a personal injury lawsuit against the other driver because New York is a no-fault insurance state. A lawsuit depends on whether your injuries are substantial enough to warrant further compensation than what your insurance company can cover you for. Chronic whiplash pain that causes psychological symptoms with little relief may be considered severe enough because this falls under pain and suffering damages.
Long-term treatments for whiplash include physical therapy, prescription medications, and other treatments like surgery may also indicate a severe injury. If these symptoms describe your condition, you should consider filing a lawsuit for a few reasons. A lawsuit could potentially cover all of your medical expenses along with damages for pain and suffering, future lost wages, and other out-of-pocket expenses related to the car accident.
Personal Injury Lawyer in New York
Car accidents happen unexpectedly, which is why most people are not prepared for the financial aftermath. The medical expenses and psychological distress that results from whiplash can make some people lose hope. However, if the other driver was partly at fault and your injury is severe, you may want to talk to a Syracuse Personal Injury Lawyer. A lawyer will be able to assess your situation to determine whether you are eligible to file a lawsuit and will know the right steps to take.
At Gattuso & Ciotoli we have over 50 years of experience with personal injury cases. Call us today at (315) 314-8000 for a free consultation. We are located in Central New York, Syracuse, Watertown, Binghamton, Fayetteville, North Syracuse, Camillus, Liverpool, Cortland, and Auburn. Our goal is to help you reach a full recovery.