Herniated Disc and Other Spinal Injuries Caused by Car Accidents
Central New York Legal News
Any kind of injury to the spine can lead to further damage if left untreated by health professionals. The first thing you should do if you suspect a spinal injury is remain still and call 911. Any movement could force a bone into the nerves of the spinal cord, which could result in permanent damage. Many spinal injuries and herniated discs are caused by car accidents. Try talking with a Fayetteville Automobile Accidents Attorney if you suspect the accident was the fault of the other driver.
Spinal Injuries and Herniated Discs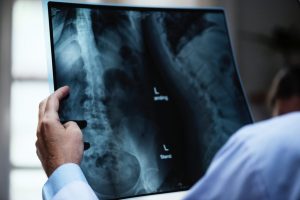 The majority of spinal injuries share similar symptoms. If you encounter any of the following symptoms, contact paramedics immediately:
Numbness or tingling sensations throughout your arms or legs
Weakness or sudden onset of fatigue
Loss of walking abilities
Paralysis in the arms, legs, or other areas
Pale skin
Blue-purple lips or fingers
Fainting
Stiffness in the neck or back
Pain in your spine or neck that seems to worsen with movement
Understanding the context of your injury will help you further assess your condition. Most spine injuries happen after a violent hit to the spine or abrupt movements of the body. Car accidents and falls are common causes of this type of injury.
Spinal discs function as cushions between the vertebrae that help make up the spine and protect your spinal cord. Herniated discs occur when these discs rupture and leak cerebrospinal fluid, which can lead to uncomfortable symptoms like pain, weakness, or numbness in the limbs.
Treatments for Herniated Discs
Treatments for herniated discs tend to target the pain experienced from this injury, primarily in the form of medications, which can include over-the-counter medicine, narcotics, anticonvulsants, muscle relaxers, and injections of cortisone. Cortisone is used to reduce inflammation that can cause pain.
If pain persists longer than a year, your doctor may take the next step by referring you to a physical therapist. They will teach you various exercises that have been shown to decrease and manage pain. However, severe cases of herniated discs often require surgery to replace the disc or else fuse the spinal bones together. This is usually only done if you have experienced weakness, numbness, trouble walking, or loss of bladder or bowel control over a long period of time.
Personal Injury Lawyer in New York
Spinal and head injuries can change a person's life if the symptoms are severe enough; some injuries to the spine can cost someone their job. Medical expenses for prolonged treatments, like year-long medications or physical therapy, can add up fast. However, you may not have to pay for all these expenses. Try getting in touch with a New York Spinal Cord Injuries Lawyer if you suspect the car accident was caused by the other driver.
At Gattuso & Ciotoli, we provide four areas of legal help to clients. You can find our services in Fayetteville, Central New York, Syracuse, Watertown, Binghamton, North Syracuse, Camillus, Liverpool, Cortland, and Auburn. Contact our office at (315) 314-8000 for a free consultation. We will work with you to investigate your personal injury claim to earn you the compensation you deserve.