How Hoverboard Lawsuits are Done in New York
Central New York Legal News
There have already been 39 instances of people going to the emergency room as a direct result of using hoverboards. New York has handled so many hoverboard accidents that they have banned their usage on public streets in New York City. This has led the Consumer Product Safety Commission to investigate at least 11 cases of hoverboard incidents.
Many people are left wondering whether they can file a personal injury lawsuit against the manufacturer of their hoverboard. In most cases, you can because injuries from a faulty product are classified under product liability law. Talk to a Central New York Product Liability Lawyer today for more information.
Common Hoverboard Accidents
Hoverboard accidents have been reported to happen from falls, unexpected increases in speed, and explosions caused by faulty electronics and the battery. These have led to head injuries and even some deaths. Falls which result from the product speeding can achieve can lead to soft tissue injuries like sprains or strains, bone fractures, and traumatic head injuries in which some brain damage may occur.
What Type of Lawsuit does a Hoverboard Injury Fall Under?
Under product liability law, customers can file lawsuits against a manufacturer if their product contains defects that directly led to the customer's injuries or death. This is under strict liability, which means the manufacturer is at fault regardless of their intent, as long as the customer can prove there is a defect. There are three types of defects that count as liabilities.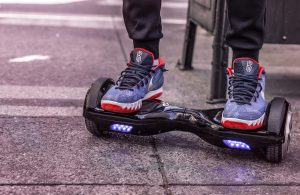 Design defects exist in the beginning stages of the product, before the product is created. These are flaws that exist within the inherent design or concept. To prove a design defect, your lawyer will need to know how the product works and prove there is a defect that can lead to injury.
Manufacturing defects occur during the mass production of the product, usually in factories. This defect can be something as simple as a missing piece or crack in the product that leads to greater damage later on.
Marketing defects have to do with how the product is labeled, what instructions are included, and whether there are any warnings listed on the manufacturer's website or product itself. These are generally easier to prove because products either have a warning label or they do not.
Product Liability Attorney in New York
Injuries from products like hoverboards can most often be serious with long-term consequences. Traumatic head injuries, for example, can cause developmental delays in children, loss of movement or sensation, and impairments in cognitive functioning like memory or attention. This can lead to loss of enjoyment of life and lost wages. Try consulting with a Camillus Personal Injury Attorney if you have suffered injuries as a result of a hoverboard accident.
At Gattuso & Ciotoli, offer four areas of legal practice to our clients. Call us at (315) 314-8000 for a free consultation today. Our services can be found in Central New York, Syracuse, Watertown, Binghamton, Fayetteville, North Syracuse, Camillus, Liverpool, Cortland, and Auburn. We will work with you to obtain the compensation you need to cover medical expenses, pain and suffering, and lost wages.