How to Enjoy a Safe Bicycle Ride in New York
Central New York Legal News
Bike riding is a popular activity that has only been on the rise nationwide. This is especially true in the State of New York. It is hard not to see the appeal of cycling; not only is it a fantastic way to enjoy the great outdoors and get exercise, but it is also a much more wallet- and environmentally-friendly way to commute.
Bicycling is made even more enjoyable when it is a group activity. It is a great way to spend time with family and friends. The benefits go on and on. Unfortunately, bike riding also comes with its own set of risks. In fact, cycling accidents may easily lead to serious injuries. And as the number of cyclists on the roads continues to grow, so does the rate of accidents.
Because of this, all bicyclists will want to make sure that they are taking the proper steps to keep themselves as safe as possible. The good news is that most cycling accidents are preventable. In this blog post, we will go over some quick and easy ways to ensure you will enjoy a safe bicycle ride in the State of New York.
Take Traumatic Brain Injury (TBI) Seriously
According to the Centers for Disease Control and Prevention (CDC), traumatic brain injuries (TBIs) are a sort of serious injury that result from a hit to the head. These injuries disrupt the normal functioning of the brain and can range in severity. A victim may suffer anything from a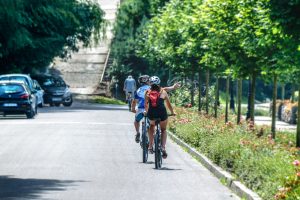 brief change in mental state to even death. Furthermore, TBIs of any severity can easily lead to both short- and long-term disability.
You should always make sure to minimize your risk of TBI when you are on your bike. The easiest and most important way to do this is by simply wearing a helmet. Every year, hospitals see over 26,000 cycling accident-related TBIs. And remember: this number is just the ones that have been reported. The actual number of cycling-related TBIs is likely far higher.
You may feel that wearing a helmet sacrifices style and/or comfort. After all, the CDC reports that almost half of all bike riders confess to not wearing a helmet. If you are one of them, consider this: there are around 515,000 cycling accidents each year that send someone to the emergency room. Do not let yourself be one of them.
Follow Road Rules
Aside from wearing helmets, many cycling accidents could be prevented if bikers simply followed the road rules and made sure to make themselves visible to all drivers and other bikers on the road. This includes riding with the flow of traffic, rather than against it.
Bikers must also remember that they are not exempt from obeying all the traffic signals and rules that apply to cars. This means stopping at stoplights and following all traffic lights. You may also benefit from using front and rear headlights on your bike and wearing reflective clothing, especially if you are riding at night.
Seeking Legal Help
Unfortunately, sometimes accidents happen. If you or a loved one have recently suffered personal injury as a result of a cycling accident, we at Gattuso & Ciottoli, PLLC may be able to help. Our offices are based in Fayetteville and we proudly serve the Central New York area, including Syracuse, Watertown, Binghamton, North Syracuse, Camillus, Liverpool, Cortland, and Auburn. Contact us today to schedule a free consultation with one of our experienced New York hit and run accident attorneys. Let us fight for you.