Injuries You Could Sustain during a Slip and Fall Accident
Central New York Legal News
Did that slip and tumble I took just stem from my carelessness? Or was someone else's negligence the cause of my injury? These questions and more sometimes rattle through the brains of victims of slip and fall accidents, mostly because a large number of these people blame themselves for their "accidents." As a result of this decision, though, some cases may be improperly underrepresented.
In many incidents, you can understand why. After all, no one is going to consider a bruised ankle or a sprained wrist worthy of court, on the surface. Here is the problem, though: if left unchecked, the carelessness of responsible parties will continue to injure more and more people down the road, an unfortunate part of reality.
Let's take a closer look at some injuries you could sustain during a slip and fall accident.
How Common Are Slip and Fall Accidents?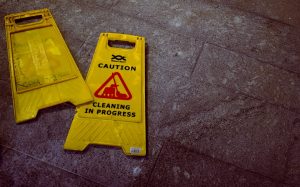 According to a readout from the National Floor Safety Institute (NFSI), slip and fall accidents are a frequent cause of injury and, in the worst-case scenario, death in the United States:
On a yearly basis, fall-related accidents account for 21.3% of emergency room visits (8 million patients), while slip and fall accidents constitute 12% of total falls in our country.
5% of victims suffer from fractures.
Overall, slip and fall accidents account for the majority of occupational injuries among workers who are 55 years or older.
On a yearly basis, two million falls occur due to poor flooring materials.
Common Slip and Fall Injuries
Whether moderate or severe, slip and fall injuries are inconvenient and unbelievably irritating. Here is a closer look at the most common varieties:
Soft tissue: In many cases, you will not be able to see these injuries and might not appear for a matter of days or weeks after an accident, making these extremely difficult to address in court. Examples include sprains to the ankle and wrist and tears in ligaments and tendons.
Head: Falling and hitting your head is an extremely dangerous situation. Injuries in this category range from mild bumps on the head to full-scale traumatic brain injuries.
Cuts and lacerations: Each of us has cut or scraped ourselves on a daily basis, but deep flesh wounds can pose a threat to an individual's health and well-being.
Spinal cord: In this case, a victim suffers from a breakage or compression that causes tremendous pain in the spinal bones and tissue. These injuries can lead to partial or full paralysis.
Breaks: These might be some of the most frightening injuries. Not only does it hurt, but a broken bone can also damage surrounding tissue. In some cases, a doctor might not be able to diagnose a break without running long-term, highly expensive tests.
Slip and Fall Law
In the event that you have fallen to the ground and sustained one or more of the aforementioned injuries, you are automatically protected by law if you can prove negligence was a cause. As part of these rules, victims who suffer an injury after tripping across poorly maintained property can file a strong case in court. For more information on slip and fall law, visit the page for HG Legal.org.
Seeking a Personal Injury Lawyer in New York
Sometimes, the simple act of taking a walk can become a battle for life and death. Taking a simple slip and fall can result in a painful and inconvenient injury that will leave you frustrated and angry. If you or a loved one has sustained injuries after enduring a slip and fall accident, you will no doubt feet terrified and unsure of what steps you should take next.
Although this might be difficult, though, you must remain calm.  With the assistance of a lawyer who is experienced with personal injury cases, you can gather viable resources to create a strong case in court.
We at Gattuso & Ciotoli have more than 50 years of combined legal experience and deliver the some of the most high-quality legal services to victims of slip and fall accidents in the vicinity of Fayetteville, New York. We value your perspective on your case and your goals for the future and ready to help you receive the justice you deserve. For more information on our four practice areas or your legal matter, contact us at (315) 314-8000 today.