Liability for a Fatal Surgical Error
Central New York Legal News
Surgeries involve a lot of precision, patience, time, and skill to avoid serious surgical errors. At the same time, conducting surgery on the right area and the correct patient is also important. This requires adequate planning, organization, and communication between the medical team before the surgery starts. There are cases where the wrong body part was operated on due to a misunderstanding or miscommunication. 
When it comes to fatal surgical errors, many of you may be wondering who is responsible for the damages. Talk to a New York Medical Malpractice Lawyer to figure out what it takes to file a strong medical malpractice claim. 
Types of Surgical Errors
There is more than one type of surgical error and nearly every single one of them can become fatal. The main types of surgical errors are wrong-site, wrong-level, and wrong-patient errors. 
Wrong-site errors involve performing surgery on the wrong body part or wrong side of the body. For example, a surgical team may confuse one leg or arm for the other. The patient will wake up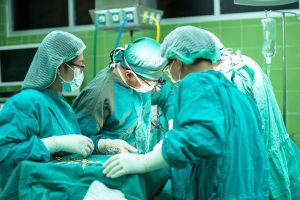 with no real change made to the arm or leg that was supposed to be operated on. This means the patient or their insurance company paid for a pointless surgery. 
Wrong-level errors happen when the correct site is operated on, but at the wrong level or on the wrong body part. This can lead to pointless surgeries or fatal errors. Errors like this may happen when medical teams have taken on multiple procedures in one day.
Wrong-patient errors can happen with patients who share similar names. Common examples involve amputating a leg on the wrong patient or performing a transplant on someone who does not need a transplant. 
Surgical Error Liability
When it comes to losing a loved one to a fatal surgical error, determining who is liable is key for filing a medical malpractice lawsuit. To do this, you need to find out the names of the people who were on the surgical team for your loved one, including the head surgeon. You will need to talk to a lawyer to figure out who is liable.
Your lawyer will be able to help you prove that a professional duty existed, this duty was breached, and your loved one passed away from the breach. The level of damages you suffered can be calculated and may include funeral expenses in addition to pain and suffering. 
Medical Malpractice Attorney in New York
Overcoming the unexpected loss of a loved one at the hands of a medical team can be devastating. Consider talking with a Binghamton Medical Malpractice Lawyer if you recently lost a loved one to a fatal surgical error. You may be able to obtain significant compensation for medical bills, pain and suffering, and funeral expenses. 
At Gattuso & Ciotoli, we have years of experience with medical malpractice claims. You can contact us today at (315) 314-8000 for a free consultation. Our offices are located in Central New York, Syracuse, Watertown, Binghamton, Fayetteville, North Syracuse, Camillus, Liverpool, Cortland, and Auburn. We will work with you to build a strong malpractice claim.