Liability in New York Slip and Fall Claims
Central New York Legal News
Did you know that the Centers for Disease Control and Prevention (CDC) estimates that one out of every five falls causes a serious injury? Falls are also the leading cause of traumatic brain injury (TBI). Slip and fall accidents are one of the most dangerous and most underestimated accidents in Central New York. Fortunately, legal recourse may be available for those who have suffered as a result of someone else's negligence.
Can the City Be Held Liable?
The answer depends on where in the state the accident occurred. Most municipalities have their own sets of rules and regulations regarding sidewalk liability. In most cities outside of New York City, however, the local government can only be held liable under two conditions: if they (1) were notified, in writing, about dangerous conditions ahead of time and (2) failed to address said dangers in a reasonable amount of time. However, you may still be eligible to collect compensation even if the city did not receive any written notifications.
Can Individuals Be Held Liable?
Sometimes, slip and fall accidents happen on private or residential property. These claims are more likely to fall under premises liability rules in New York. Premises liability is known as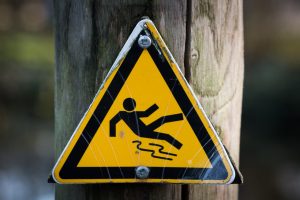 the "liability of an occupier of real property towards injury to others." In other words, any tenant or property owner has a legal obligation to make reasonable efforts to keep the premises as safe as possible for any visitors. A homeowner or landowner's insurance policy may cover the damages of any slip and fall accidents that happen on residential or private property. Consulting an experienced New York slip and fall lawyer is the best way to understand your options.
What If the Weather Caused My Accident?
Issues of slip and fall liability can be further complicated by inclement New York weather. Ice and snow pose an obvious risk of sidewalk injuries and are, thus, factors that property owners should take into account. However, the weather can sometimes be unpredictable and hard to address right away. Therefore, the courts may consider the following questions when reviewing your case:
What time of day did the accident take place?

Was snow still falling at the time of the accident?

How long did it take for the snow or ice to accumulate on the sidewalk?

In which city did the accident occur?

Were there any other hazards or evidence of negligence?
These are only some of the many factors that may come into consideration during the claims process. Each case is different and requires individual solutions. Consult with a seasoned attorney to better understand your options.
Seeking Legal Help
Were you or a loved one recently injured in a slip and fall accident? We at Gattuso & Ciottoli, PLLC may be able to help. Contact us today to schedule a free consultation with one of our experienced New York slip and fall accident attorneys. We draw on over 50 years of combined legal experience to serve personal injury victims as best we can. We proudly serve the Central New York area, including Fayetteville, Syracuse, Watertown, Binghamton, North Syracuse, Camillus, Liverpool, Cortland, and Auburn.