Safety Tips and Tricks for New York Bikers
Central New York Legal News
According to the National Highway Traffic Safety Administration (NHTSA), over 800 bicyclists died as a result of traffic crashes in the year 2018 alone. Perhaps unsurprisingly, any bicyclist-car accident almost always ends up more disastrously for the biker than the driver. Unfortunately, the state of New York is no exception to this trend. Do you know what to do to keep yourself safe while bicycling on New York roads?
New York Road Rules
According to the New York Department of Transportation (NYDOT), bicyclists are subject to the same road rules and regulations as drivers are. Defying them not only puts you at risk of being cited but also heightens your chances of getting in an accident. Refrain from riding against traffic or passing vehicles on the right, as doing so will make you an unexpected hazard for drivers (and vice versa). Similarly, make sure to keep both hands on your handlebars at all times, follow the lane markings, and never ride while under the influence.
Defensive Biking
We have all heard the number one defensive biking tip before: Always wear a helmet. (For bikers 14 years and younger, this is not just good advice—it's the law.) Look for a high-quality helmet that conforms to the standards of the American National Standard Institute (ANSI), the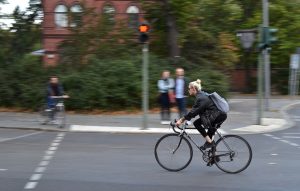 American Society for Testing and Materials (ASTM), or Snell Memorial Foundation (Snell). A helmet can make a world of difference in the unfortunate case of an accident. Other useful defensive biking techniques include, but are not limited to:
Keeping vigilant in scanning the road behind you.

 You may want to consider investing in rear-view mirrors if you find it too distracting to look back over your shoulder without losing your balance or swerving.

Dressing appropriately.

 Try to wear waterproof clothing in the rain. Dressing in layers may also help you during times of inconsistent weather. Brightly colored clothing is also incredibly helpful in increasing visibility across seasons.

Using hand signals.

 By allowing other people to anticipate your movements, you minimize everyone's chances of being involved in a collision.

Using lights at night.

 Just staying visible is one of the biggest safety issues facing New York bikers. In the state of New York, it is required to have a white headlight visible from at least 500 feet ahead and a red rear reflector or taillight visible from up to 300 feet from behind.

Keeping your bike in good condition.

 Falling back on maintenance is one of the easiest ways to get into an accident. Make sure to adjust your bike to fit you, and take care to check your brakes and tires regularly.
Seeking Legal Help
Were you or a loved one recently injured in a bicycling accident? We at Gattuso & Ciottoli, PLLC may be able to help. Contact us today to schedule a free consultation with one of our experienced New York bicycling accident attorneys. We draw on over 50 years of combined legal experience to serve personal injury victims as best we can. We proudly serve the Central New York area, including Fayetteville, Syracuse, Watertown, Binghamton, North Syracuse, Camillus, Liverpool, Cortland, and Auburn.