Steps to Take after Sustaining an Injury from a Bicycle Accident
Central New York Legal News
Now that spring is here and summer is almost around the corner, you can guarantee that more bicyclists are going to be appearing on the roadways and trails throughout America. After all, who can resist this gorgeous warm weather (when it's not raining, that is)? However, with the lovely weather and fresh air comes a major risk for people who choose to journey across major roads, particularly in big cities like NYC. In the blink of an eye, a casual bike ride can quickly turn into a disaster.
Bicycle crashes are nothing short of terrifying and, in many cases, painful. Injuries sustained from these accidents can be unnerving and catastrophic, and you need to take action as soon as you are physically possible.
Let's take a closer look at steps you can take after sustaining an injury from a bicycle accident.
Frequency of Bicycle Accidents in New York
Unlike motorists, bicyclists are not protected by metal doors, reinforced roll-bar cages, or airbags that could buffer an impact. As a result, being struck by a car can result in even more severe injuries. According to data collected by the New York Police Department in 2017, bicycle accidents are one of the most frequent co-occurring causes of injuries and fatalities in traffic accidents, only outpaced by pedestrian crashes. Here is a closer look at NYPD crash data as evidence:
Citywide: 4,397 injuries and 24 fatalities among bicyclists, as part of a total of 58,672 total injuries in traffic crashes
Brooklyn: Coming in at a close 2nd with 1,691 injuries and 10 fatalities
Manhattan: In 3rd place, with 1,260 injuries and nine fatalities.
For more information about crashes in the NYC area, please review the full NYPD report.
Common Injuries among Bicyclists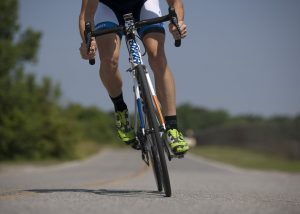 According to American Family Physicians, the majority of injuries sustained by bicyclists occur along the face, neck, shoulders, arms, and any other parts of the body above the waist. Nevertheless, in high-impact accidents, more severe injuries can take place across the entire body. Here is a closer look at some acute traumatic injuries listed by the AFP:
Head injuries: Traumatic brain injuries, skull fractures, concussions, contusions, intracranial hemorrhages
Face: Facial contusions, face bone fractures, cracked teeth, lost teeth, corneal tears, eye damage
Bones and muscles: Bone fractures, muscle tears, muscle strains, dislocated joints, spinal injuries
Take Action Immediately
In the event that you are injured during a bicycle accident, complete the following actions (or make sure someone else has done so, if you are physically unable to):
Call 911 or get to the nearest hospital.
If you are not severely injured, stay at the crash site and cooperate with the police.
Get as much information about the responsible driver as you can.
For more information regarding safety measures for riding bicycles, please review this safety document provided by the National Highway Traffic Safety Administration.
Personal Injury Lawyer in Fayetteville, New York
Riding your bicycle down the streets of New York can be immensely convenient and fun, but safety is always a priority for people who are not operating motor vehicles on the roadways of the state. In many cases, distracted and negligent motorists will not provide the right of way, which can ultimately result in moderate to catastrophic injuries. In the event that you or a loved one has been injured in a bicycle crash, you will no doubt feel terrified and concerned about what you should do next.
Although this might be difficult, though, you must remain calm. With the assistance of a lawyer who is experienced with personal injury cases, you can gather viable resources to create a strong case in court.
We at Gattuso & Ciotoli have more than 50 years of combined legal experience and deliver the some of the most high-quality legal services to victims of a wide variety of accidents in the vicinity of Fayetteville, New York. We value your perspective on your case and your goals for the future and ready to help you receive the justice you deserve. For more information on our four practice areas or your legal matter, contact us at (315) 314-8000 today.