The Basics of Slip and Fall Injuries
Central New York Legal News
Slip and fall accidents are some of the most common causes of personal injury. Unfortunately, many people mistakenly believe that such incidents are never really serious. In reality, however, the National Safety Council (NSC) has found that slip and fall accidents are the third leading cause of unintentional injury-related death. These accidents can happen at any time and anywhere. Do you know what to do if you are ever involved in a slip and fall accident? 
Causes of Slip and Fall Accidents
Slip and fall accidents happen most commonly in high traffic areas, especially when there are materials being moved around. Many times, slip and fall hazards develop before a property owner even has the chance to become aware of them. However, many slip and fall injuries are also caused due to property manager negligence. In any case, you should take care to look out for the following slip and fall accident hazards:
Blocked walkways

Clutter on the floor (e.g., cords or hoses)

Loose mats, rugs, or carpeting

Poor lighting

Poor weather conditions

Slippery surfaces

Unrepaired walking areas
It is important to remember that this list is not exhaustive. Remember to stay vigilant of your surroundings and veer away from anything that could cause you harm.
Slip and Fall Injuries
Slip and fall accidents can lead to many different types of injuries, ranging from minor to severe. They may even lead to traumatic brain injury (TBI). This can happen if you fall and hit your head on the way down. It is important to take every potential TBI seriously. Even a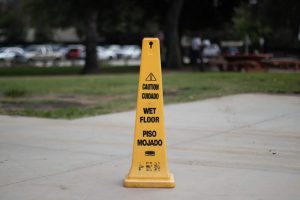 mild TBI may leave you with health complications for weeks or even months. If you find yourself experiencing dizziness, headaches, or sensitivity to light, talk to a doctor immediately. Untreated TBIs can easily lead to lifelong health issues, including both cognitive and physical disabilities.
Fractures and serious soft tissue injuries are also common after slip and fall accidents, especially for older adults. These problems can be incredibly painful and expensive to correct. More serious cases may even require surgery—or at least a lengthy hospital stay. You may need to see a physical therapist or be left with lifelong mobility issues. See a medical professional right away before your symptoms get worse.
What to Do After a Slip and Fall Accident
If you are ever involved in a slip and fall accident, it is important to act quickly. Make sure to document any evidence of the accident. This may involve taking photographs of the accident scene, your injuries, or any other relevant surrounding information. You will also want to request any available surveillance video and try to find an eyewitness for your personal injury case. And of course, make sure to seek out medical attention, report the fall to the proper authorities, and get in contact with the right slip and fall injury lawyer.
Seeking Legal Help
Whatever kind of personal injury accident you have recently suffered, you have the right to seek legal help and compensation from a New York personal injury lawyer. Contact the law firm of Gattuso & Ciottoli, PLLC any time day or night at (315) 314-8000 for a free consultation drawing on over 50 years of combined legal experience. Our offices are based in Fayetteville and we proudly serve the Central New York area, including Syracuse, Watertown, Binghamton, North Syracuse, Camillus, Liverpool, Cortland, and Auburn.