The Liability of Taxi Drivers in Taxi and Bicycle Collisions
Central New York Legal News
Bicycles, scooters, taxi cabs, buses, subways – these are just a few of the most popular ways to get around the metropolitan landscape of Manhattan. In the midst of this jungle of bustling people and congested vehicle and foot traffic, you can imagine that the traffic accident rate would definitely skyrocket in a city like New York City, especially during the spring, summer, and fall.
While collisions between pedestrians and vehicles are common, some unfortunate bicyclists might collide with a taxi cab during the rush hour. Needless to say, if you are a bicyclist who has found yourself in this situation, you will be more than eager to take action if you are injured.
Still, one question remains: can you hold taxi drivers completely responsible for your accident? Let's take a closer look and find out.
Sticking to the No-Fault Insurance Policy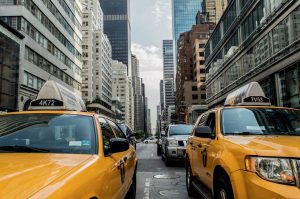 Remember that New York is one of several U.S. states that have adopted the no-fault law, permitting quick compensation to parties that have suffered during an accident and placing strict limitations on claims for personal injuries, including pain and discomfort. Both taxi drivers and bicyclists are protected by this policy.
Still, in regards to an accident involving a taxi and a bicycle, the following criteria must be met for this policy to take effect:
The vehicle is a taxi cab registered in the State of New York.
The driver of the taxi cab and the bicyclist must have been sober during the crash.
The bicyclist must have been directly struck by the taxi cab.
Serious Nature of Traffic Accidents
Although the nature of taxi and bicycle collisions might not have a high rate of fatalities, the fact of the matter is that any traffic accident of any kind can be potentially dangerous, even in slow-moving lanes in the downtown region of NYC. As shown on the Vision Zero website, about 4,000 residents of NYC sustain severe injuries during accidents of this nature, while an additional 250 die.
Recording Evidence for a Case
As with any accident, you should be prepared to gather evidence that can support your case in court. If you have sustained serious injuries, take video footage and photos and gather as much information from eyewitnesses as you can. Additionally, your attorney will take measures to communicate with the insurance company to clarify the no-fault policy.
Personal Injury Lawyers in New York
In the blink of an eye, a simple drive down the road or major highway can turn into a fight for your life or the life of your loved one. Without warning, you and those you care about can become victims of deadly motor vehicle accidents and will have to reap the consequences, which can include hefty medical bills and an overloading cost of vehicle damages. Still, no one should have to suffer through these problems, particularly if the accident was triggered by negligence or malicious intentions.
Although this might be difficult, though, you must remain calm. With the assistance of a lawyer who is experienced with personal injury cases, you can gather viable resources to create a strong case in court.
Here at Gattuso & Ciotoli, our attorneys have more than 50 years of combined legal experience and deliver the some of the most high-quality legal services to victims of a wide variety of accidents in the vicinity of Fayetteville, New York. We value your perspective on your case and your goals for the future and ready to help you receive the justice you deserve. For more information on our four practice areas or your legal matter, contact us at (315) 314-8000 today.