Ways to Avoid Accidents During Winter Driving
Central New York Legal News
As winter approaches, the chances of snow, sleet, and icy roads increases, and so do the chances of car accidents. Any kind of weather that makes roads slippery also makes control of the vehicle more difficult than usual. Knowing what to do in these kinds of situations may help prevent you from experiencing a car accident during the winter season. However, if you find yourself in a car accident caused by a negligent driver who failed to drive safely in the winter, you can contact a New York Car Accidents Lawyer for guidance on your claim. 
Prevalence of Winter Car Accidents
During the winter season, cities lower the speed limits by 30-40 percent for a reason, to reduce winter car accidents. Up to 24 percent of car accidents happen in the snow or on icy roads and at least 15 percent of these accidents occur during a snowfall. Even something as minor as sleet can cause an accident. All it often takes is an icy road.  
Icy roads pose a higher danger than other roads because they significantly decrease friction between a vehicle's tires and the pavement of the road. Any wrong turn or move could result in losing control of the vehicle. Braking at the last minute is not likely to work. This makes reckless driving and speeding twice as dangerous, but snow does not always stop every driver from engaging in these behaviors. 
Ways to Avoid Winter Car Accidents

 
When it comes to winter driving, the first thing you can do to decrease your chances of a car accident is to drive slower. Be sure to brake ahead of time instead of last-minute because there is no predicting whether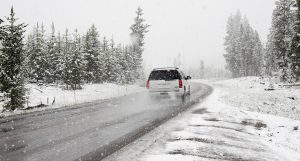 you will be able to stop in time. Less traction on the road means less time for coming to a complete stop. The last thing you want is to rear-end a car in front of you or find yourself in the middle of a busy intersection.  
Avoid driving too close or on the side of snow plows because they have limited fields of vision and often throw out large snow clouds that can block your vision. Drive more cautiously on bridges and overpasses because they tend to ice over faster and longer. Keep an emergency kit in your car if possible and a phone charger that can hook up to your car in case you experience a breakdown or find yourself stuck in the snow.  
Car Accidents Lawyer in New York 
Car accidents in the snow can grow rapidly out of control once they start. This can lead to severe personal injuries and vehicle damages that can cost thousands of dollars. Common examples include traumatic brain injuries, shattered bones, spinal cord injuries, and chronic whiplash pain. Consider hiring a North Syracuse Automobile Accidents Lawyer if you suffered serious injuries after a car accident caused by someone else.  
At Gattuso & Ciotoli, we have years of experience with these types of personal injury claims. Contact us today at (315) 314-8000 for a free consultation. We are located in Central New York, Syracuse, Watertown, Binghamton, Fayetteville, North Syracuse, Camillus, Liverpool, Cortland, and Auburn.