What Happens After a Delivery Vehicle Accident?
Central New York Legal News
Thanks to the power of the internet, our world is now more connected than ever. One of the consequences of this increasing interconnectedness is the continued growth of delivery services across the nation. While we can all appreciate the convenience of getting a package overnighted to us, this brings about a slew of new legal questions. For instance, who is responsible for any delivery vehicle-involved car accidents?
Amazon Delivery Trucks
Nowadays, Amazon is arguably the most well-known delivery service in the country. Amazon dictates most of its delivery trucks' routes and schedules, but they also have many different delivery provider partners. In other words, the United States Postal Service is not the exclusive Amazon delivery service. To account for any potential mistakes, Amazon has implemented various legal techniques to limit their liability in case of a delivery truck accident. Mostly, this is done through indemnification agreements. Such agreements place the burden of responsibility onto the delivery companies rather than Amazon itself. 
Liability in Delivery Truck Accidents
If a delivery truck driver causes an auto accident, then it is likely that the owner/operator of the delivery truck will be held liable for the accident. However, exceptions may apply if the company is not adequately insured to cover all of the damages. It may be useful to imagine a hypothetical situation here. Say Company A is contracted with Amazon to deliver its packages. Company A only has a $600,000 liability policy on their vehicles. One day, a driver for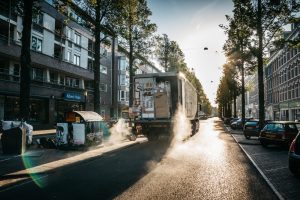 Company A gets in an accident while carrying out a delivery. The accident was a clear result of the delivery truck driver's negligence, as there is proof that he was texting and driving at the time of impact. The accident leaves the other driver with lifelong disabilities.
Due to the company's indemnification agreements, Amazon claims no responsibility for the accident. Instead, Company A must be held liable for its driver's actions. Unfortunately, the $600,000 liability policy is not to cover all of the injured driver's damages. The injured driver must then turn to his own insurance policy's Supplemental Uninsured Motorist (SUM) Coverage or Uninsured Motorist (UM) Coverage. Such coverage policies exist to provide supplemental benefits when the liable party's insurance cannot cover the total damages. However, it is important to note that the injured driver must have proactively ensured that he had a high SUM/UM limit before the accident occurred. If he did not ensure this beforehand, then his insurance provider may only supplement him with New York state's mandated minimum of $25,000.
Seeking Legal Help
Were you or a loved one recently injured in a delivery truck accident? We at Gattuso & Ciotoli, PLLC may be able to help. Contact us today to schedule a free consultation with one of our experienced New York auto accident attorneys. We draw on over 50 years of combined legal experience to serve personal injury victims as best we can. We proudly serve the Central New York area, including Fayetteville, Syracuse, Watertown, Binghamton, North Syracuse, Camillus, Liverpool, Cortland, and Auburn.