What to Consider if You Were Hit by a Taxi in NYC
Central New York Legal News
In essence, New York City's fleet of yellow taxicabs is pretty much as famous as the city itself. In fact, many residents of this sprawling metropolitan jungle don't even bother to purchase cars, as they simply use public transportation, including taxis, to get from one point of the Big Apple to another. Fortunately, fatal traffic crashes in New York City have taken a tumble from 701 (1990) to 249 (2011), and the city's improvement plans have only made riding in vehicles like taxis even safer. Regardless of the relative safety of taxicabs, though, accidents can still happen.
So, what steps are you supposed to take if you are struck by a taxi? Let's take a closer look and find out.
Injuries Inflicted during Taxi and Pedestrian Accidents
Obviously, any time a car accident of any sort occurs, injuries are always potentially high-risk factors, especially if one of the victims is a pedestrian. Whether a vehicle is traveling at high or moderate speed, pedestrians can still suffer injuries after slamming into heavy machines. A collision between a human being and a taxicab can result in disastrous consequences.
Here is a closer look at some common injuries people can suffer after colliding with taxicabs:
Whiplash
Spinal cord or neck injury
Contusion or lacerations
Permanent disfigurement
Liability for Taxi Drivers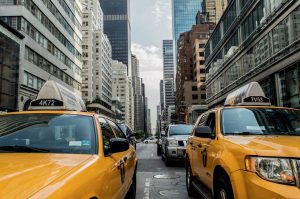 Of course, taxicab drivers are, in this case. responsible for any collisions with pedestrians, bicyclists, motorists, and other taxicab drivers. According to the New York Bicycling Coalition (NYBC), taxicab drivers are qualified to purchase no-fault insurance as directed by the No-Fault Law, meaning your compensation can be kickstarted much sooner. Remember, under the No-Fault policy, your insurance company will compensate you for your accident as well as injuries.
Personal Injury Lawyers in New York
In the blink of an eye, a simple drive down the road or major highway can turn into a fight for your life or the life of your loved one. Without warning, you and those you care about can become victims of deadly motor vehicle accidents and will have to reap the consequences, which can include hefty medical bills and an overloading cost of vehicle damages. Still, no one should have to suffer through these problems, particularly if the accident was triggered by negligence or malicious intentions.
Although this might be difficult, though, you must remain calm. With the assistance of a lawyer who is experienced with personal injury cases, you can gather viable resources to create a strong case in court.
Here at Gattuso & Ciotoli, our attorneys have more than 50 years of combined legal experience and deliver the some of the most high-quality legal services to victims of a wide variety of accidents in the vicinity of Fayetteville, New York. We value your perspective on your case and your goals for the future and ready to help you receive the justice you deserve. For more information on our four practice areas or your legal matter, contact us at (315) 314-8000 today.