What If I Was Hit by a Drunk Driver?
Central New York Legal News
Unfortunately, drunk driving accidents are still common today despite all the laws and programs aimed against drinking while driving. Suffering serious personal injuries from these types of car accidents can be frustrating because you were not at fault for the accident. The other driver decided to drive drunk and now you have to pay for the damages. 
However, you may be able to obtain significant compensation by filing a personal injury claim with the insurance company. Be sure to talk to an experienced New York Drunk Driving Accidents Attorney if you have questions about what this process requires. 
What to Do After a Drunk Driving Accident
One of the first things you should do after a drunk driving car accident is call 911, especially if anyone is injured. Ask for emergency services and police because you will need to file a police report if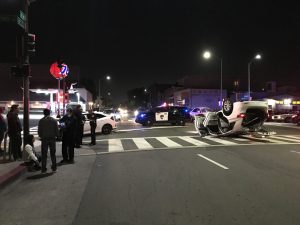 anyone was injured. Not doing so could lead to legal consequences, whether or not the accident was your fault.
Be cautious about interacting with the drunk driver and keep your distance. When people are drunk, they are more likely to commit aggressive or violent acts they would not normally commit. Considering that they just caused an accident, they may not be in the best mood to talk and alcohol can exacerbate this mood. 
Be sure to take pictures of your injuries, the wreckage, and evidence that the driver was drunk like an open alcoholic beverage in their car. Seek medical attention. Even if you do not feel injured, it is better to lean on the side of caution by seeing a doctor to make sure. 
What Type of Lawsuit Do I File?
An important thing to know is that the DWI criminal trial for the drunk driver will be kept separate from your personal injury claim. This means you cannot expect to receive compensation from the results of the criminal trial, but you may receive compensation from your personal injury claim. 
Working with a lawyer to build a strong personal injury claim is your best bet at receiving the compensation you need to recover. This involves organizing all the evidence you collected at the accident scene and may involve collecting additional evidence like witness testimonies. Be wary that not all insurance companies will offer you fair compensation. A lawyer can help you negotiate with the insurance company or sue if they refuse to cooperate. 
Personal Injury Lawyer in New York
Recovering from the aftermath of an unexpected drunk driving accident can be stressful. Consider hiring a Cortland Personal Injury Lawyer if you suffered serious injuries from a drunk driver and have encountered obstacles to obtaining compensation. Depending on the damages you suffered, you may be eligible to receive compensation for medical expenses, pain and suffering, and lost wages. 
At Gattuso & Ciotoli, our team of lawyers have years of experience with personal injury cases. You can call us at (315) 314-8000 for a free consultation today. We are located in Central New York, Syracuse, Watertown, Binghamton, Fayetteville, North Syracuse, Camillus, Liverpool, Cortland, and Auburn. Our goal is to defend your rights.