What to do If You Were Hit by An Uninsured Driver
Central New York Legal News
Car insurance may be required by law in some states, but this does not mean everyone follows the rules. Some drivers never sign up for car insurance and at the off chance that you experience a car accident with one them, you may find yourself worried about what this means for you financially. There are a few ways you can navigate around this obstacle. Consider consulting with a Central New York Attorney for further guidance if your situation is complicated.
Check with Your Claims Adjuster
After you submit a personal injury claim to the insurance company, you will be assigned a claims adjuster. Ask them about your insurance policy to see if you are signed up for uninsured motorist coverage. This can save you a lot of time and money because this covers physical injuries in the event that you experienced a car accident with an uninsured driver.
Some insurance policies may also provide uninsured motorist coverage for property damages like damage to your vehicle. You can also talk to your claims adjuster about whether other damages are covered, like pain and suffering, lost wages, and emotional distress. These same rules apply if you were in a hit-and-run accident.
Should I Worry About No-Fault Laws?
Some people worry about whether they will still be covered since New York is a no-fault insurance state. A no-fault insurance state means drivers can only sue if the injuries sustained from the accident reach a certain level of severity. Severe injuries tend to be traumatic head injuries, spinal cord injuries, and chronic whiplash pain.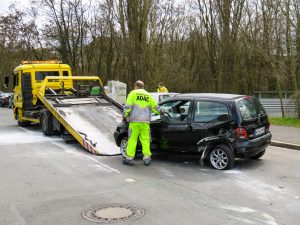 Your personal injury claims may be fully paid to you by your insurance company, regardless of whether you were at fault or not. If you are still in need of further compensation, you can talk with a personal injury lawyer. A lawyer will be able to walk you through the investigation process to help you determine how much more compensation you may be entitled to.
Some injuries are severe enough to warrant coverage for long-term treatments, future lost wages, and loss of enjoyment of life. Your lawyer will know what evidence to collect to increase your chances of receiving enough additional compensation to cover the rest of these damages.
Personal Injury Lawyer in New York
You should not have to struggle to pay the bills after a car accident if another driver was at fault. Dealing with the emotional distress from a car accident is overwhelming enough, but trying to figure out what the right next step to take is can be difficult. A Liverpool Personal Injury Lawyer will help you organize the evidence and documents needed to defend your side in court. They possess the training necessary to protect you against unfair deals.
At Gattuso & Ciotoli we have over 50 years of legal experience in four areas of practice. Contact us at (315) 314-8000 today for a free consultation. Our offices are located in Central New York, Syracuse, Watertown, Binghamton, Fayetteville, North Syracuse, Camillus, Liverpool, Cortland, and Auburn. Our goal is to defend your rights.